B & C Construction – Kitchens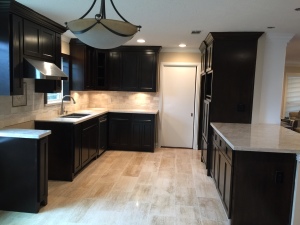 Remodeling in Katy, TX B & C Construction specializes in residential kitchen and bathroom remodeling. Remodeling your kitchen can be a great investment when done correctly. Whether you are looking to add space or completely renovate your kitchen or bathrooms, our renovating services can provide you with the perfect space. Below is a list of many of the remodeling services that we offer:
Counter tops and Backsplashes Installation and Removal
We offer installation of all prefabricated and custom counter top materials, including granite, tile, Silestone, Soapstone, Formica and custom concrete.
Sinks, Faucets, and Hardware
We recommend hardware and sinks from brands like Kohler, Delta, American Standard and Moen.
Custom Lighting
B-C Construction offers custom lighting such as recessed and skylights. Skylights can add a large amount of light using only a small amount of space. These are perfect for master bathrooms and bedrooms, as well as in other living areas.
Vent
and Exhaust Systems While remodeling your kitchen or bathroom, make sure to take vent and exhaust systems into account. Want to add a cook top range over your island in the kitchen? B-C Construction can install venting and exhaust systems over it to ensure gas and exhaust are successfully vented from the area.
Floors
B-C Construction specializes in the installation of new floors such as tile, slate, wood, laminate, marble and carpet. We also remove and hall off existing flooring for your convenience.
Island additions
Want to add an island to your kitchen? Let B-C Construction build and install your new island while renovating or remodeling your kitchen.
Custom cooktop/range and appliance installation
Are you appliances old, out-dated or unattractive? We use licensed plumbers and/or electricians to run the proper electrical, gas and water lines to allow for new appliances to be installed in your kitchen.
Custom or prefabricated cabinets installation
Cabinets can help create a new look and feel of your kitchen, as well as optimize space and create additional storage needs for you in your kitchen.